Fandom:
Criminal Minds
Subject:
Hotch/Reid
Title:
Burn So Bright
Warnings:
none
Notes:
This is my first fanmix, so a bit nervous to see how it goes. Thanks to
me_and_thee
for having a look at it before posting.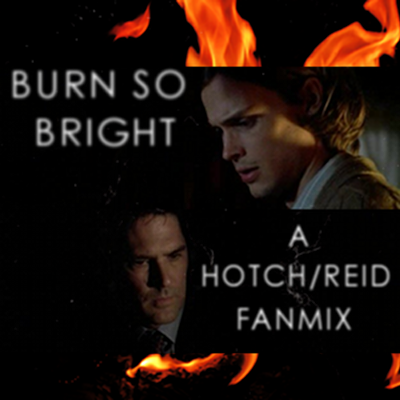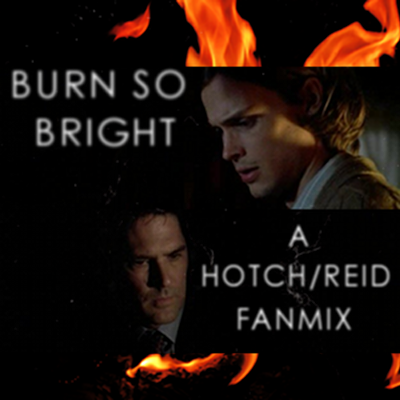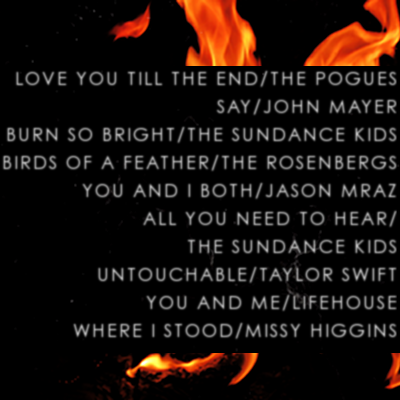 Love You Till the End – The

Pogues
I just want to tell you nothing
You don't want to hear
All I want is for you to say
Why don't you just take me
Where I've never been before
I know you want to hear me
Catch my breath
I love you till the end

I just want to be there
When were caught in the rain
I just want to see you laugh not cry
I just want to feel you


Say – John Mayer
Even if your hands are shaking
And your faith is broken
Even as the eyes are closing
Do it with a heart wide open
Burn So Bright – The Sundance Kids
It won't be long, keep holding on
We'll fan the flames until they light
A beacon hope to lead us on this open road.
You're building me up, you break me out
You're always right here waiting, right here waiting to start,
You burn so bright, you are the light that guides me home
Birds of a Feather - The Rosenbergs
I can't be anything without you
Don't you know?
It's a shame.
I'm sitting at my desk and it's noontime
And I want
Just to call you
You and I Both – Jason Mraz
Cause you and I both loved
What you and I spoke of
And others just read of
Others only read of the love, the love that I love.
All you need to hear – The Sundance Kids
-Instrumental-

Untouchable – Taylor Swift
I wanna feel you by my side
Standing next to me
You gotta come on, come on
Say that we'll be together
Come on, come on
You and Me - Lifehouse
All of the things that I want to say
just aren't coming out right
I'm tripping inwards
you got my head spinning
I don't know where to go from here
Where I Stood – Missy Higgins
And I won't be far from where you are if ever you should call
You meant more to me than anyone I ever loved at all
But you taught me how to trust myself and so I say to you
This is what I have to do


All Songs Zip File.
- If you would like an individual song uploaded, let me know.
- comments and feedback is loved